XRP Price Prediction: Will XRP Fall Below $0.60 as $1 Billion Trading Volume Comes In?
XRP Price Prediction: Will XRP Fall Below $0.60 as $1 Billion Trading Volume Comes In?
The Blockchain Industry: Insights and Opportunities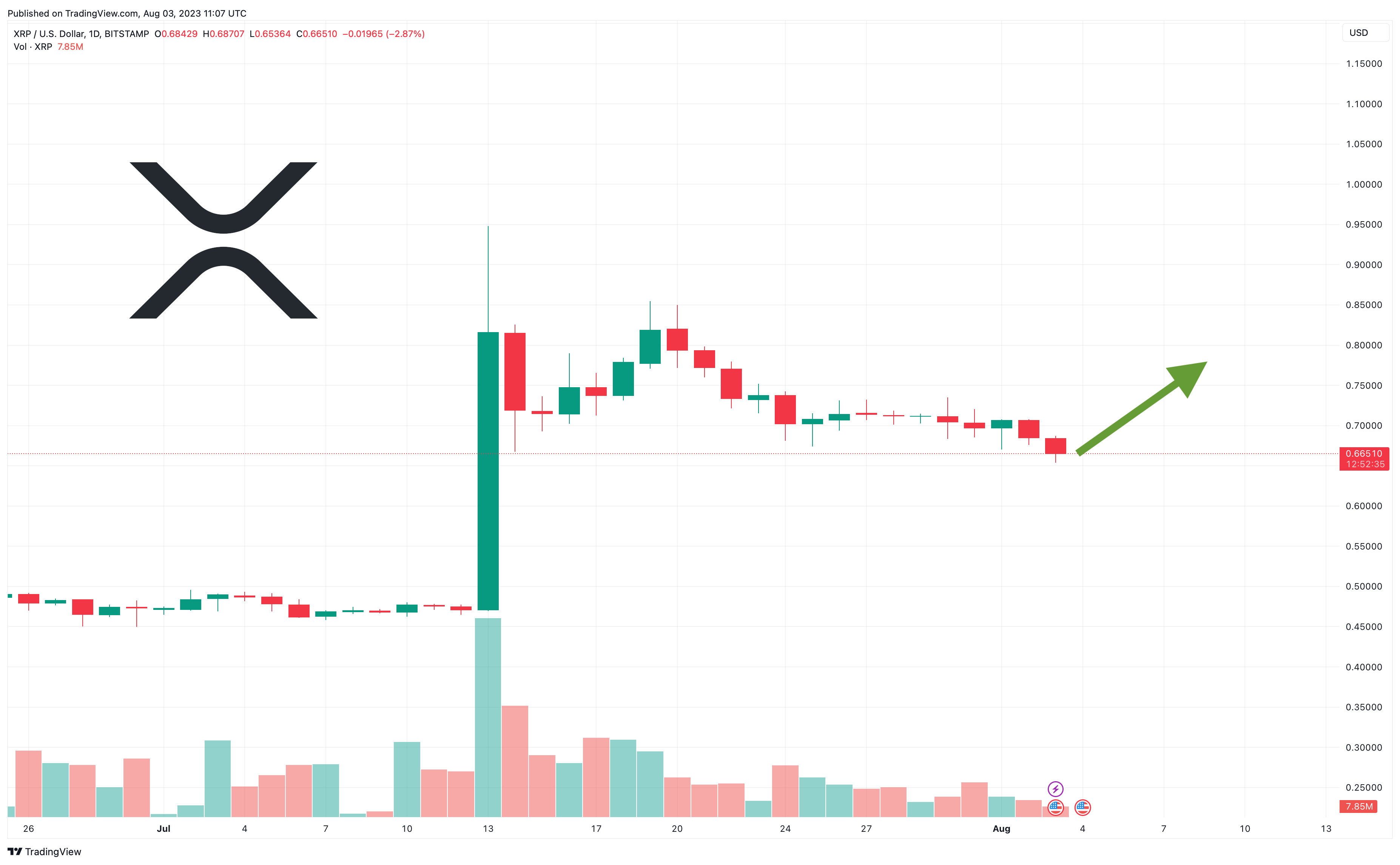 Source: TradingView
The XRP price has experienced a decline of 4.5% in the past 24 hours, reaching $0.663825, as the overall cryptocurrency market slides by 1% today. Over the past seven days, XRP has dropped by 7.5%. Despite this recent dip, XRP has shown impressive growth of 36% in the past month and a staggering 77% in the past year. While investors may be panic selling the altcoin, it is conjecturable that XRP's decline is greater than the market as a whole due to profit-taking amidst uncertain investment conditions. However, given XRP's robust fundamentals and Ripple's continued business expansion, it is only a matter of time before the altcoin makes a rebound.
XRP Price Prediction as $1 Billion Trading Volume Comes In – Will XRP Fall Below $0.60?
Source: TradingView
Analyzing XRP's chart, we can identify signs that the coin is nearing the bottom of its recent declines and is poised for a rebound. Notably, XRP's relative strength index (RSI) has dropped to 30, indicating oversold conditions compared to its recent movements. This suggests an imminent rally. Additionally, the coin's 30-day moving average is approaching its 200-day average, which typically triggers a corrective upward movement. However, there is a possibility that XRP may experience a further decrease before recovering, with its support level having consistently declined since its spike in July. Traders should be prepared if XRP drops below $0.65 before its subsequent recovery, although it is unlikely to fall below $0.60. Following its bottoming out, XRP's fundamentals indicate a steady rise, particularly after Ripple's pivotal ruling in July during its case with the SEC.
This ruling has cleared the path for Ripple to aggressively expand its business. Recent news reveals that Ripple partnered with the Bank of England to explore synchronized settlement of payments using XRPLedger. Furthermore, Ripple has initiated a stablecoin trial with the Republic of Palau. These developments indicate that numerous institutions and organizations are likely to turn to Ripple when venturing into blockchain and cryptocurrencies. Consequently, Ripple's expansion will synchronize with XRP's growth.
Considering these factors, it would not be surprising to witness XRP returning to $0.70 in the coming weeks, possibly reaching $0.80 and $0.90 later in the year.
An Ethereum-Based Version of XRP
For traders who may be growing impatient waiting for XRP's gradual growth, an alternative is to consider newer altcoins that are poised for initial growth spurts and significant rallies. One such coin is an ERC-20 version of XRP known as XRP20. Currently, XRP20's presale has already raised over $200,000 since its launch earlier this week. As an Ethereum-based token, XRP20 allows holders to stake it, thereby earning a passive income.
XRP20 stands out due to its presale price of $0.000092, which mirrors the price of the original XRP back in 2014. This offers investors the opportunity to make up for potentially missed gains by investing in a promising new token at a very low cost. Similar to the original XRP, XRP20 has a maximum supply of 100,000,000,000 tokens, with 40% allocated for the presale and another 40% reserved for staking rewards. Furthermore, 10% of the total supply will be burned over time, making the altcoin deflationary. This feature holds promising potential for price appreciation over time, as demonstrated by the rapid participation in XRP20's presale by early investors.
New investors interested in XRP20 can participate in the presale through its dedicated website by connecting their software wallets.
Visit XRP20 Now
Disclaimer: Cryptocurrency investments carry inherent risks. This article serves for informational purposes and does not constitute investment advice. Potential investors should be aware that they could lose all of their capital.
---