Solana's price has surged to $23, leading to speculations about whether it can reach $1,000 by 2023.
Solana's price has surged to $23, leading to speculations about whether it can reach $1,000 by 2023.
The Rise of Solana and its Potential in the Blockchain Industry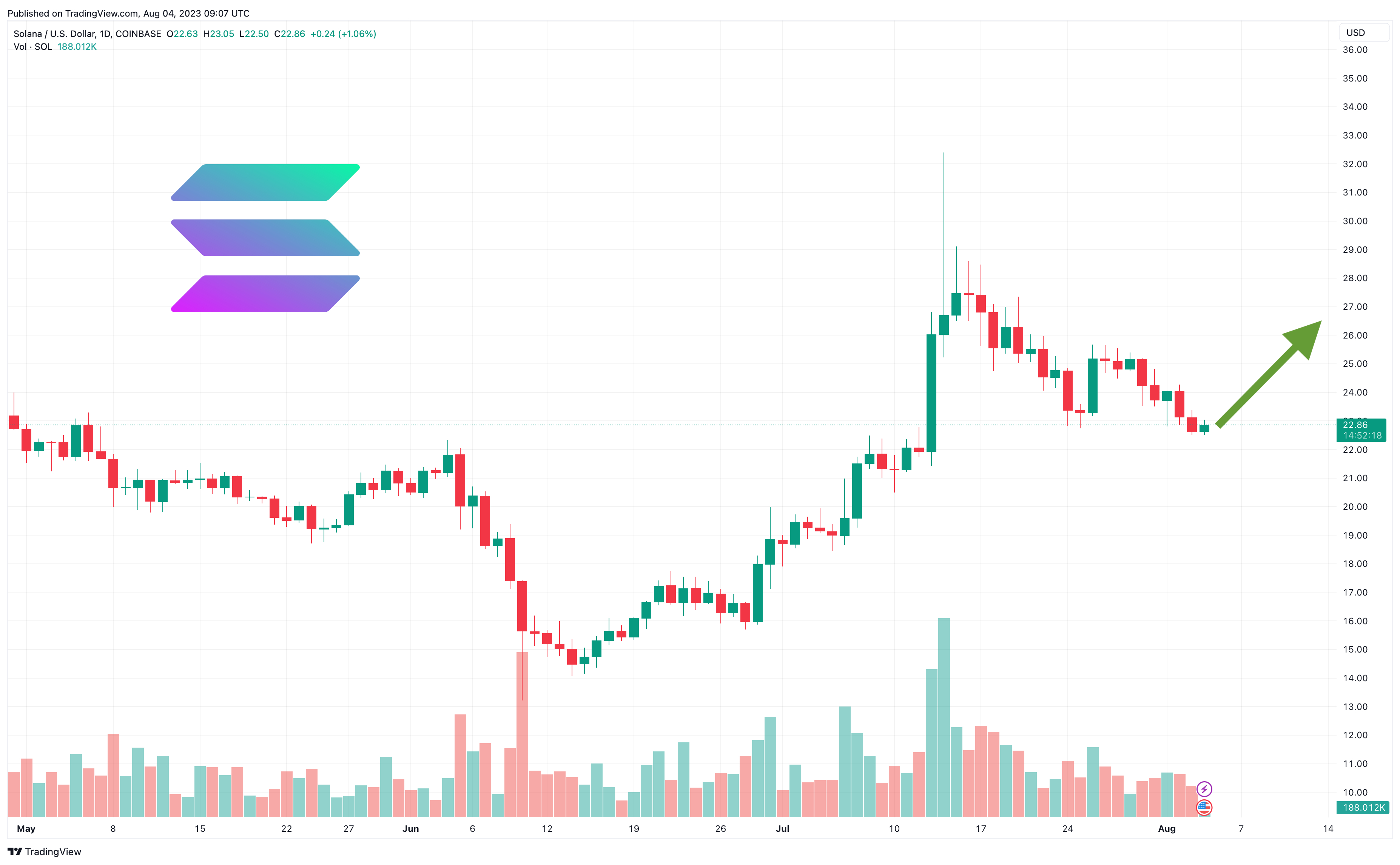 Source: TradingView
The cryptocurrency market has been relatively stagnant recently, with minimal movement across various coins. However, Solana (SOL) stands out with a 1.5% increase in the past 24 hours, reaching $23. Despite a 6.5% decrease in the last seven days, SOL has shown impressive growth of 19% in the last month and a staggering 130% since the beginning of 2023. After struggling in 2022, Solana has made a significant recovery in 2023, positioning itself for further gains. The rising usage of the Solana platform is expected to drive up SOL's price in the near future.
Analyzing SOL's Potential for Growth
Examining SOL's chart and indicators, it becomes evident that the altcoin is currently in an oversold position, indicating an imminent recovery. The relative strength index (RSI), a common technical indicator, has started to climb after hitting 30, suggesting a perceived momentum that could result in noticeable gains within the coming days. Another significant indicator is the "death cross," occurring when a shorter-term moving average (in this case, the 30-day average) falls below a longer-term moving average (the 200-day average). While this may lead to further losses before recovery, SOL's support level indicates that any additional drops are unlikely to be substantial.
Solana's Fundamentals and Growth Potential
Solana has successfully regained its credibility after a challenging year marked by numerous outages. Since February 25, its blockchain has reported 100% uptime, establishing confidence in its reliability. In addition, Solana has recently introduced crucial updates that are likely to drive adoption and usage levels. One noteworthy update is the release of Solang, a compiler that allows developers to build applications for Solana using Solidity, a programming language predominantly used with Ethereum. This update is expected to attract more developers, resulting in increased development and app creation for Solana.
Furthermore, Solana is home to several projects gaining real-world traction, notably Helium, a decentralized wireless communication network. Helium's usage expanding globally highlights Solana's immense potential and suggests parallel growth for SOL.
Solana Price Prediction: From $23 to $1,000?
Based on the current momentum and Solana's positive outlook, it is reasonable to consider the altcoin's potential price trajectory. Starting from its current price of $23, there could be a gradual climb to $50 within the next few months. If the positive trends continue, the price could potentially reach $100 by the end of the year.
New Altcoins with Promising Potential
Source: TradingView
While Solana remains one of the strongest altcoins in the cryptocurrency market, there are other tokens that show even more potential for significant gains. Some new coins, especially those in the presale phase, have the potential to rally substantially once they list on trading platforms.
One such token is XRP20, an ERC-20 version of XRP. In its recent presale, XRP20 raised $400,000. What makes XRP20 particularly appealing is that its presale price is set at $0.000092, the same price XRP had back in 2014. This provides investors with an opportunity to make up for missing out on XRP's early growth. Additionally, XRP20 allows buyers to stake their tokens and earn a passive income.
XRP20 has a maximum total supply of 100,000,000,000 tokens, with 40 billion allocated to the presale and another 40 billion reserved for staking rewards. It employs a deflationary mechanism by burning 10% of its total supply over time, as well as 0.1% of every transaction. These deflationary characteristics are expected to drive the price of XRP20 upwards in the long run.
Investors interested in XRP20 can purchase the token by visiting its official website and connecting their software wallets. The token can be acquired using ETH, USDT, or fiat currency.
Disclaimer: Crypto assets are high-risk investments. This article provides informational purposes only and should not be considered as investment advice. Capital loss is possible.
Conclusion
The blockchain industry continues to evolve, and Solana stands out as an altcoin with remarkable growth potential. With its recent recovery and increased usage, SOL is positioned for further gains. Additionally, new altcoins like XRP20 offer investors opportunities to participate in the market and potentially benefit from substantial growth.
As always, it is essential to exercise caution when investing in cryptocurrencies and conduct thorough research before making any investment decisions.