Solana rallies 15%, signaling renewed momentum.
Solana (SOL) has staged an impressive comeback, igniting renewed momentum in the crypto space with a decent 15% rally. The blockchain platform has been making significant strides as of late, particularly in the realm of non-fungible tokens (NFTs).
Over the past few weeks, Solana's NFT trade counts and trade volume have experienced a notable surge, underlining the platform's growing popularity among artists, collectors, and enthusiasts.
Adding to the excitement, SOL's price witnessed a significant uptick in the last 24 hours, further fueling investor interest and cementing its position as one of the most promising cryptocurrencies in the market.
The recent surge in NFT activity on Solana reflects the platform's increasing appeal for digital creators seeking efficient and eco-friendly solutions for tokenizing and trading their unique artworks and digital assets.
Top Solana Projects by Active Users (Last 7D) @MagicEden $RARI @rarible $MEAN @meanfinance $GARI @Chingari_IN $SBR @Saber_HQ $GENE @genopets @solincinerator @SharkyFi $RAY @RaydiumProtocol $TFMC @tapfantasy2021 @dappradar #Solana $SOL pic.twitter.com/n4HTxmMcjA

— Solana Daily (@solana_daily) June 28, 2023
Solana's Magic Eden Triggers Active Users Surge
In a noteworthy update highlighted by Solana Daily, a renowned Twitter account dedicated to sharing updates about the Solana ecosystem, it was revealed that Magic Eden has emerged as the project with the highest number of active users in the past week. This development showcases the growing popularity and adoption of Magic Eden within the Solana community.
The blockchain's metrics further substantiate this narrative of growth. According to data from Dune, Solana's NFTs have observed a significant increase in the total number of transaction counts over the recent weeks.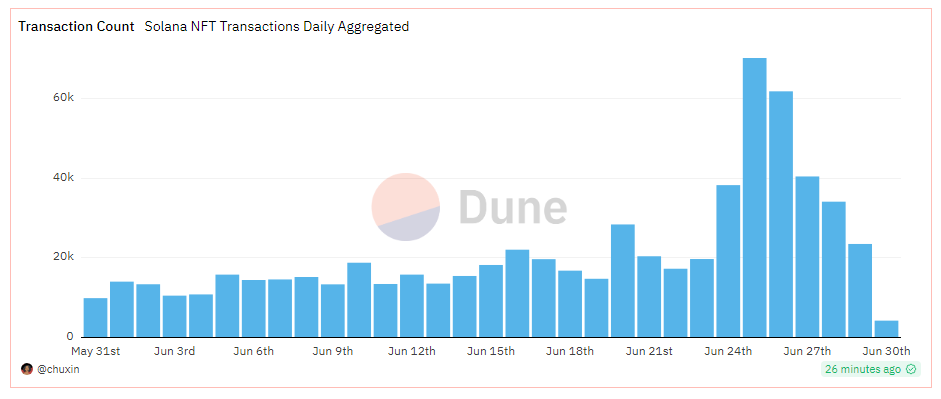 Source: Dune Analytics
The increasing level of transaction activity is matched by a corresponding surge in transaction volume, highlighting the growing enthusiasm and involvement in Solana's NFT marketplace.

SOL up 15.4% in the last 24 hours. Source: Coingecko
As a result of these positive developments, SOL, the native cryptocurrency of Solana, has experienced a substantial surge of 15.4% within the past 24 hours alone.
CoinGecko reports that SOL's price has reached $18.63, consolidating its upward momentum. This consistent climb has persisted over the past seven days, with SOL climbing 11.0%.
SOL market cap currently at $7.3 billion. Chart: TradingView.com
Altcoin's Popularity On The Rise
According to a recent report on SOL's price, it is evident that the altcoin experienced an increase in popularity over the course of last week. This rise in popularity was reflected in the surge of social volume surrounding the token.
As more users engaged in discussions and shared information about SOL on various social media platforms, it became clear that interest in the altcoin was growing steadily.
Moreover, SOL's weighted sentiment also witnessed an upward trajectory during the same period. This indicates that the overall sentiment surrounding the token was predominantly positive.
Investors and enthusiasts expressed optimism and confidence in SOL, which contributed to the overall positive sentiment observed in discussions and sentiment analysis.
(This site's content should not be construed as investment advice. Investing involves risk. When you invest, your capital is subject to risk).
Featured image from Unsplash