NFT artist Beeple buys first PFP NFT: CryptoPunk #4593
NFT artist Beeple buys first PFP NFT: CryptoPunk #4593
The Blockchain Revolution: Exploring the Artistic and Technological Influence of NFTs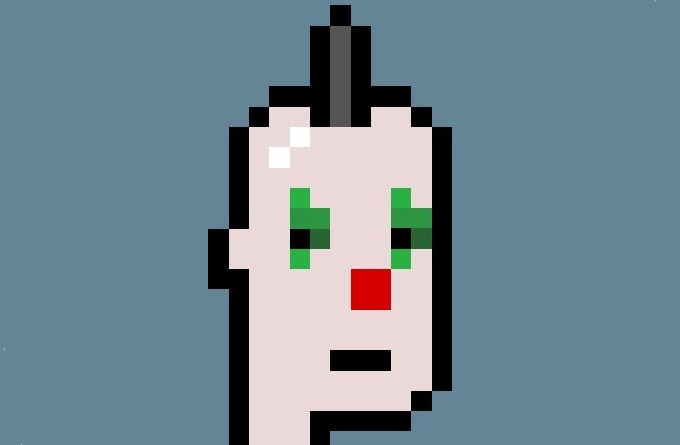 CryptoPunk #4593. Source: Beeple / Twitter
Beeple, the renowned creator of a staggering $69 million non-fungible token (NFT), recently made a significant purchase within the blockchain industry. He acquired his very first profile-picture (PFP) NFT from one of the world's most popular collections, CryptoPunks. This purchase, CryptoPunk #4593, was bought for ETH 113.69 ($208,463) on August 1, according to data from Etherscan.
In a tweet, Beeple expressed his anticipation and excitement surrounding the acquisition, stating, "this is the first PFP I have ever bought, and it is a really long time coming. From the time I learned about NFTs, this project has always stood out to me as being an insane story." He went on to describe CryptoPunks as "ridiculously innovative artwork" that altered the way people perceive identity and ownership.
CryptoPunks, though initially given away when few cared about it, has since "spawned an entire asset class," according to Beeple. He firmly believes that this project is an influential work from both technological and artistic perspectives, with an undeniable impact on the NFT space.
Beeple's acquisition, CryptoPunk #4593, holds a unique trait – a red nose – making it one of the rarer Punks within the famous collection. With a rarity count of 4,026 out of 10,000, Beeple has acquired a truly distinctive asset. As of Thursday, it stands as the second-highest sale of the week, with CryptoPunk #6634 taking the top spot after being purchased for ETH 235.
The Search for Identity and Creative Expression
Beeple had previously expressed his intention to purchase a CryptoPunk. In a tweet, he indicated that he had never bought a PFP before and that he was actively seeking advice and opinions on the "best punk trait." In his recent post, Beeple revealed that he had searched specifically for a Punk with recognizable features that embodied the spirit of the project and would allow him to construct a compelling narrative around it through his everyday artworks.
Notably, Beeple's journey into the world of CryptoPunks involved a conversation with Noah Davis, the Brand Lead for CryptoPunks. Davis was previously involved in digital art sales at Christie's during Beeple's record-breaking NFT sale, where his artwork "Everydays: The First 5,000 Days" fetched a staggering $69.35 million in March 2021.
Beeple's Influential Career and Foray into Blockchain Technology
Beeple's achievements extend beyond the world of CryptoPunks and NFTs. In November 2021, his artwork "HUMAN ONE" was sold for $28.9 million at Christie's 21st Century Evening Sale. This year, the sculpture was exhibited for the first time in the United States at the Crystal Bridges Museum in Arkansas. Additionally, Beeple announced a collaboration with Solana in November 2022, focusing on bringing "immersive 3D NFTs" to this blockchain.
To further solidify his presence in the industry, Beeple established his own studio in Charleston, South Carolina, USA, earlier this year. The studio serves as a dedicated workspace for Beeple, featuring a 13,000 sq. foot gallery and a 13,000 sq. foot experiential space. This establishment showcases Beeple's commitment to fostering creativity and exploration within the realm of digital art.
As the blockchain industry continues to evolve, artists like Beeple are pushing boundaries and revolutionizing the art world. The emergence of NFTs has not only provided new avenues for artists to showcase their talent and creativity, but it has also sparked a paradigm shift in the way people perceive and value tangible and intangible assets.
Learn More: