Next LUNC price increase prediction based on $0.00009 support level for Terra Luna Classic.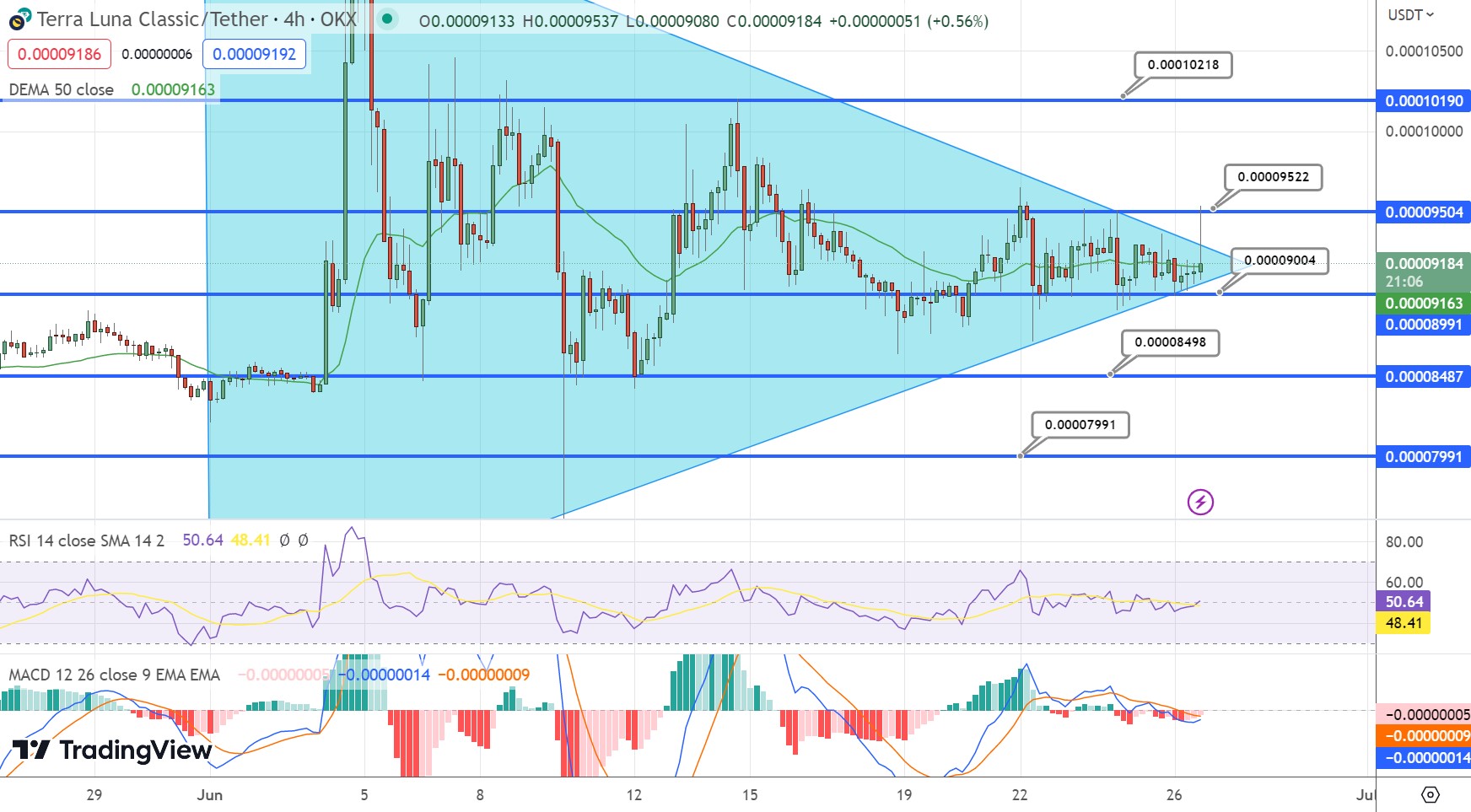 Terra Luna Classic (LUNC) has gained attention in the cryptocurrency market as it has rebounded after a period of inactivity, with a more than 2% increase indicating a bullish trend.
Investors are wondering if it's a good time to buy before a possible breakout.
Despite recent market crashes and regulatory concerns, Terra Luna Classic (LUNC) has shown resilience.
It has recovered above the support level of $0.00009044 and is currently trading at $0.0000920. Investors are interested in the factors driving LUNC's upward momentum.
With LUNC holding the $0.00009 level and showing upward movement, investors anticipate the next bullish run.
The positive momentum and resilience of Terra Luna Classic suggest the potential for further gains.
Investors should closely monitor the market for sustained upward movement and potential breakouts that could indicate the next rise for LUNC.
Reviving Terra Luna Classic (LUNC): "Six Samurai" Propose Strategic Plan
The recent upward trend of LUNC can be attributed to a recent report indicating that the "Six Samurai," a group of experienced engineers, have presented a strategic plan for the revival of Terra Luna Classic (LUNC) in the third quarter of 2023.
This proposal aims to revitalize the LUNC ecosystem and has garnered positive feedback from the community. As a result, the LUNC price has shown promise, closing the week with a 1.3% gain.
The proposed plan includes a budget of $116,000 for implementing an L1 roadmap, which involves transitioning from Columbus-5 to Columbus-6 and updating the Cosmos SDK.
Furthermore, the proposal suggests listing Terra Classic on Keplr's Web Interface and Mintscan, platforms that offer analytical visualizations and block exploration for Cosmos.
The Six Samurai team, which includes experienced developers, is dedicated to collaborating with authorized teams to develop on LUNC.
They recognize the significant growth potential of LUNC and are committed to contributing to its revival.
In addition, the proposal outlines plans for a stablecoin USTC testnet, the implementation of an Alliance module for cross-chain yield, and the development of a fee share module to allow contract developers to receive a portion of gas fees.
The strategic plan proposed by the "Six Samurai" team for the revival of Terra Luna Classic (LUNC) could have a positive impact on its price.
This plan is expected to generate interest and confidence among investors, potentially driving up demand and leading to price appreciation.
Terra Luna Classic Price Prediction
From a technical perspective, LUNC has rebounded above a significant support level at 0.00009063, as evidenced by another trend line observed on the four-hour chart.
This bounce has propelled the price towards the $0.00009522 level.
At present, LUNC is displaying a symmetrical triangle pattern, which indicates a sense of uncertainty among investors and a cautious sentiment in the market.
The Relative Strength Index (RSI) and Moving Average Convergence Divergence (MACD) indicators also demonstrate signs of buying interest.
These indicators indicate that investors are waiting for clear signals or positive market developments before making any moves.
It is important to closely monitor the immediate resistance level at $0.00009517, as a breakout above this level could potentially propel LUNC's price towards $0.0001028.
However, it is also important to consider a bearish scenario, with the possibility of trading around the $0.0001104 level.
With its current price at $0.00009765, there is a likelihood of it returning to $0.000100 in the coming days and potentially reaching $0.0001126.
Let's stay alert and seize the opportunities that lie ahead in the market.