Key Levels to Watch as ADA Price Dips Below $0.30
Key Levels to Watch as ADA Price Dips Below $0.30
The Undervalued Potential of Cardano (ADA) in the Blockchain Industry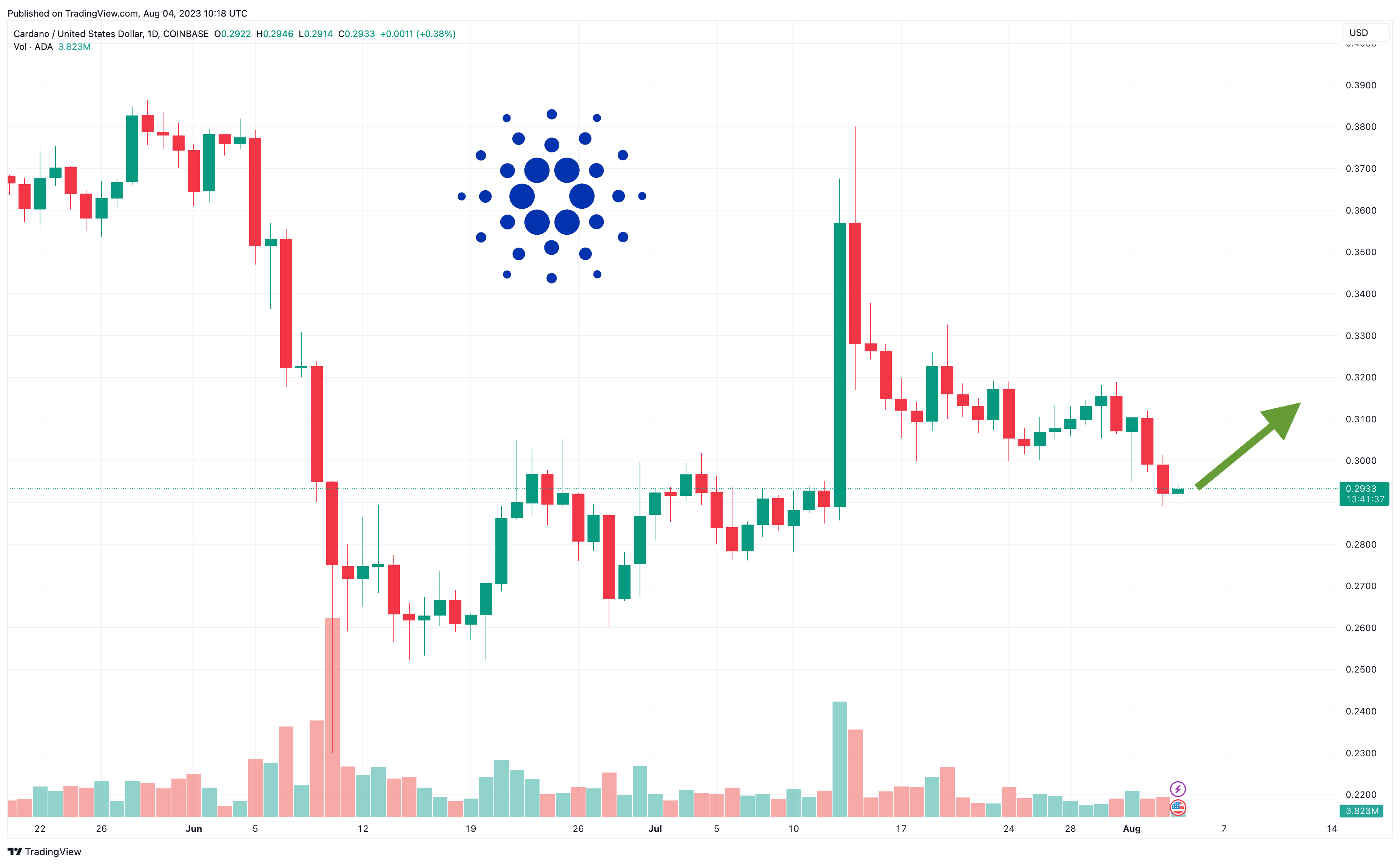 The recent dip in the price of Cardano (ADA) below $0.30 has sparked interest among investors and traders. While the current price of $0.293809 reflects a slight decline in the past 24 hours and a 5% loss in the past week, it also highlights the undervalued nature of ADA in the market. Compared to other major tokens that have experienced significant gains in the past year, Cardano's potential for growth remains largely untapped1.
Cardano's Rebound and Market Analysis
A closer look at Cardano's chart indicates that a rebound may be on the horizon. The relative strength index (RSI) has reached a low point of 30, suggesting that a positive reversal is imminent2. Additionally, the 30-day moving average has fallen below the 200-day average, reinforcing the potential for an upward trend3.
However, it is important to note that ADA's support level has been declining, with the coin recently dropping below the crucial $0.30 support level. This downward trend may indicate the possibility of further decline before a significant recovery takes place4. The global stock market slump resulting from the downgrading of US government debt also adds a potential negative influence on ADA's short-term performance.
Solid Fundamentals and Future Prospects
Despite short-term market fluctuations, Cardano's fundamentals remain strong, positioning it as a potential long-term growth asset in the blockchain industry. The successful deployment of the Mithril upgrade, which improves network stability and scalability, showcases Cardano's commitment to technological advancements5.
Cardano's total value locked in has seen a remarkable 250% increase since the beginning of the year, with the growth driven by successful applications like Minswap and the Djed stablecoin6. Furthermore, the ongoing development of over 1,250 projects building on Cardano adds to its long-term growth potential7.
Taking into account these positive developments, analysts predict that the Cardano price will gradually recover to $0.30 in the coming weeks and potentially reach $0.50 by the end of 20238. This projection highlights the untapped growth opportunities that Cardano offers to both long-term and short-term investors.
Exploring High-Potential Presale Tokens
For traders seeking more substantial gains, diversifying into presale tokens can be an attractive option. These tokens have the potential to rally significantly when listed on trading platforms. Cowabunga Coin (COWABUNGA) is an ERC-20 meme token that recently started its presale phase9.
Cowabunga Coin brings the popular Teenage Mutant Ninja Turtles franchise to the blockchain, capitalizing on the latest release of a new film in the franchise. As part of its tokenomics, Cowabunga Coin reserves 25% of its total supply for community rewards and airdrops, encouraging investor participation and ensuring a vibrant community10. The token has garnered attention, with early indications suggesting it has reached its target of $500,000 in presale investments.
Investors interested in participating in the Cowabunga Coin presale can visit the official website and connect their crypto wallets to secure their tokens. At its current price of $0.000357, Cowabunga Coin presents an intriguing opportunity for potential gains once it hits major trading platforms11.
Conclusion: The Blockchain Industry and Investment Opportunities
With Cardano's undervalued potential and solid fundamentals, it remains an attractive investment option in the blockchain industry. Its gradual rebound and technological advancements, coupled with a growing number of projects built on the Cardano platform, affirm its long-term growth prospects.
Simultaneously, exploring high-potential presale tokens like Cowabunga Coin appeals to traders looking for more substantial speculative gains. However, it is essential to exercise caution and conduct thorough research before engaging in any investment opportunities within the blockchain industry.
Disclaimer: Crypto is a high-risk asset class. This article is provided for informational purposes only and does not constitute investment advice. Proceed with caution and be aware of potential risks and losses that can occur in the market.