FLOKI recovers from a fall and returns to the green zone.
In the middle of a volatile market for cryptocurrency, Floki Inu (FLOKI) has surprisingly become a symbol of hope for investors. While alternative coins are facing the challenges of a recession triggered by the Securities and Exchange Commission's actions against major cryptocurrencies in the United States, the meme coin sector is struggling with declining capitalization, sinking further into uncertainty.
However, against all odds, FLOKI has maintained its steady progress and risen above the chaos, proudly glowing in green on today's trading charts.
As the world of cryptocurrency deals with regulatory obstacles and market volatility, FLOKI remains steadfast, capturing the attention of investors and defying the prevailing negative market sentiment.
Floki Inu (FLOKI) Surges Amidst Meme Coin Downturn
In the midst of a recent collapse in meme coins, Floki Inu (FLOKI) has experienced a noteworthy 24-hour rally of 5.17%. This surge has propelled its price on Coin MarketCap to $0.00002218. Furthermore, the trading volume for FLOKI has reached an impressive $10,059,314 in the last 24 hours, catapulting it to the fifth position among the most traded meme coins.

Source: CoinMarketCap
In stark contrast, its competitors, including popular coins such as Dogecoin (DOGE) and Shiba Inu (SHIB), have been experiencing declines, with their market caps diminishing by 0.5% to 1%.
Amidst the current downturn in meme coins, FLOKI has emerged as a standout performer, attracting attention and trading activity while its counterparts falter. This unexpected surge showcases the resilience and potential of FLOKI, demonstrating its ability to rebound and generate renewed interest in an otherwise challenging market environment.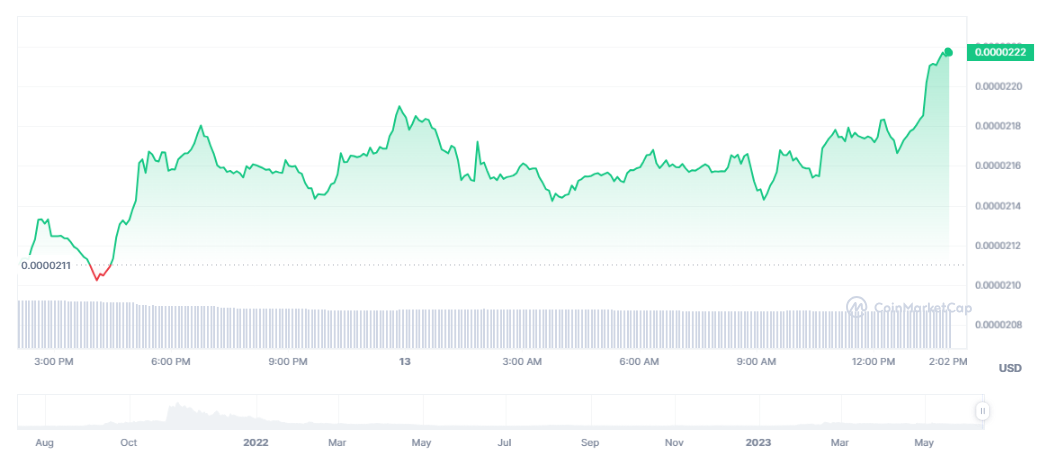 FLOKI in an upward trajectory. Source: CoinMarketCap.
Crypto Market Remains Volatile Amid Regulatory Uncertainty
As the new week began, the crypto market showed signs of renewed activity, albeit with cautious optimism as regulatory crackdowns from the previous week continued to weigh on sentiment. The uncertainty surrounding the classification of crypto tokens added to investor jitters, further exacerbating the market's volatility.
The index tracking the top 100 crypto tokens experienced a decline of 0.8%, reflecting the cautious mood prevailing among investors. Latest data indicated that the total market capitalization of cryptocurrencies slipped to $1.09 trillion on Monday, underscoring the ongoing challenges faced by the market.
Bitcoin re-enters the $26K territory. BTCUSD chart: TradingView.com
Regulatory ambiguity has become a significant point of concern, with differing views on the classification of various tokens. While Bitcoin (and apparently Ethereum and Litecoin ) is not by definition a security by US regulators, SEC Chair Gary Gensler has emphasized that most other tokens fall under the agency's investor-protection laws.
Furthermore, Gensler has stressed the importance of trading platforms registering with the SEC, adding another layer of complexity to the regulatory landscape.
(This site's content should not be construed as investment advice. Investing involves risk. When you invest, your capital is subject to risk).
Featured image from BlockchainReporter