"Ethereum's price prediction: Indicators show $1,800 level in play."
"Ethereum's price prediction: Indicators show $1,800 level in play."
The Blockchain Industry: Insights and Predictions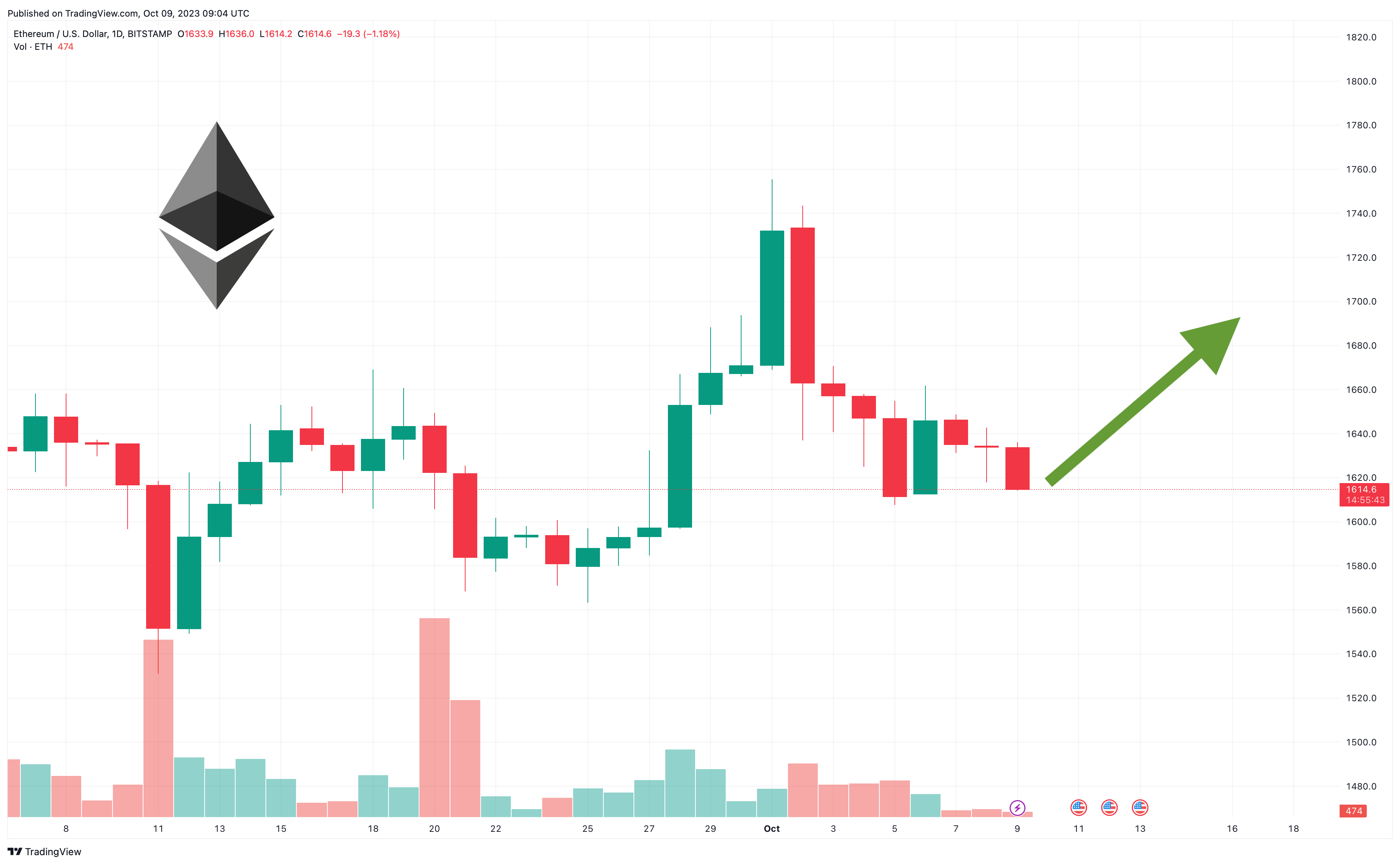 The blockchain industry has been experiencing fluctuations recently, and one of the prominent players in the market, Ethereum (ETH), has faced a 0.5% drop in the past 24 hours, reaching a value of $1,619. This decline is in line with the overall market trend, which has seen a similar percentage decrease in the same time frame.
Despite this short-term setback, Ethereum has shown resilience, maintaining a 2.5% increase over the past fortnight and a significant 35% growth since the beginning of the year. However, the cryptocurrency has struggled to sustain a value above $1,700 this month, with its 200-day average hovering around $1,800. This indicates that Ethereum is currently oversold, presenting an opportunity for a rebound.
While the indicators for Ethereum may seem weak at present, it is important to recognize the underlying strength of this altcoin. Ethereum's price has fallen below its 30-day exponential moving average, which remains below its 200-day average. This suggests significant selling pressure in the market. Additionally, the relative strength index (RSI) is gradually declining below 50, indicating an excess of selling. However, since the RSI has not reached extreme lows of 30 or 20, it could signify the possibility of continued selling before a potential recovery.
The market is now closely observing whether Ethereum's current support level can prevent a further drop below $1,600. Should it successfully hold this key psychological level, Ethereum may experience a quicker recovery. However, a breach of this support could indicate a potential trend of further losses.
When assessing Ethereum's prospects, it is crucial to consider its fundamental attractiveness as an altcoin. Despite recent losses, Ethereum's market position remains strong. The layer-one blockchain continues to dominate the total value locked in the DeFi sector, especially when including ETH-based layer-two networks. Furthermore, the cryptocurrency has witnessed significant adoption news, with giants like PayPal launching an ETH-based stablecoin and Visa conducting stablecoin trials on its network.
Given these factors, a rebound for Ethereum seems imminent. Market analysts predict that Ethereum could reach $1,700 in the following weeks, with a bullish end to the year potentially pushing the value to $1,800 or even $1,900.
Alternative High-Return Altcoins
While Ethereum remains a reliable option for altcoin traders, there are other high-potential alternatives available in the market. Certain newer tokens have shown promising prospects, particularly those associated with presale events. These tokens can experience significant rallies upon their launch on trading platforms, especially if they have successfully generated substantial interest during presale phases.
One such example is Meme Kombat (MK), a project that stages AI-generated battles between meme characters, allowing users to place bets on the outcome. This unique platform has already raised over $400,000 in its presale, demonstrating its growing popularity in a mere three weeks.
Meme Kombat's appeal to new investors lies in its captivating concept, offering rewards and prizes (in $MK tokens) to users who accurately predict battle outcomes. Users can bet against themselves or the platform, placing bets by staking the platform's native token, MK. This dual functionality enables users to earn both staking and gambling rewards, potentially making MK highly profitable in multiple ways.
The total supply of MK is capped at 12 million tokens, with 50% allocated to the presale and another 30% allocated to battle and staking rewards. Early investors have the opportunity to participate in the presale at a potential discount by visiting the official Meme Kombat website and connecting their software wallets. During the presale, 1 MK is priced at $1.667. Once the presale ends, MK will be listed on trading platforms, where it could experience significant rally, capitalizing on the ongoing popularity of meme-related projects.
Please note that cryptocurrency investments are high-risk endeavors. This article serves as informative content and does not constitute investment advice. Always consider the potential of losing all capital when engaging in crypto-related activities.
Disclaimer: This article is provided for informational purposes and does not constitute investment advice. You could lose all of your capital.