CryptoPunks' resilience challenged as NFT experiences 60% decline in 1 week.
CryptoPunks' resilience challenged as NFT experiences 60% decline in 1 week.
The Decline of CryptoPunks: A Reflection on the Current State of Non-Fungible Tokens in the Blockchain Industry
Non-fungible tokens (NFTs) have been a revolutionary force in driving the development of the Web3 ecosystem. However, since reaching its peak in 2021, the initial enthusiasm surrounding NFTs has subsided. Despite this, NFTs continue to play a significant role in shaping the blockchain industry.
A particular category of NFTs, known as "blue chip NFTs," holds a special place in the world of digital assets. These NFTs are highly sought after due to their scarcity, historical relevance, and association with renowned artists, enduring businesses, or significant historical items. Blue chip NFTs are considered the prestigious and precious gems of the digital asset world.
CryptoPunks, one of the most prominent blue chip NFT projects, has recently faced some challenges. CoinGecko's research highlights the extent of the decline, with CryptoPunks suffering the worst losses among the top 11 blue chip NFT projects studied.
At its peak during the 2021 NFT bull market, the floor price for CryptoPunks collections reached an impressive 11,000 ETH. However, according to NFT Floor Price data, the collection's value has declined, with the floor price currently at 47.69 ETH. This decline in value has raised concerns among NFT enthusiasts and sparked disputes among investors and fans.
The decline of CryptoPunks can be observed through various metrics. OpenSea, a leading NFT marketplace, reports a significant decrease in sales volume. Sales have gone down by 60%, while the volume of transactions has dropped by 64%. These alarming statistics paint a worrisome picture for a project that was once highly sought after.
Despite the decline, CryptoPunks, developed by Larva Labs in 2017, still holds significant value in the NFT market. The uniqueness and rarity of CryptoPunks have helped pave the way for generative profile picture (PFP) collections that followed. In fact, CryptoPunks have generated substantial profits for their owners. The most expensive CryptoPunk ever sold, CryptoPunk #5822, fetched a staggering $23 million in February 2022.
However, recent data shows a disheartening decline in CryptoPunks' performance. The number of unique active wallets has decreased by approximately 20%, and transaction values have plunged by more than 32%. Moreover, the monthly sales volume for CryptoPunks has experienced a sharp decline since March. Sales, which peaked at $30.43 million, fell to less than $10 million by the end of June.
The downward trend in CryptoPunks' performance raises important questions about the future of NFTs and their overall influence on the blockchain industry. It signals a shift in market dynamics and investor sentiment, prompting a reevaluation of strategies and investment decisions in the NFT space.
It is essential to note that the decline of CryptoPunks should not be seen as a reflection of the entire NFT market. NFTs continue to evolve and play a crucial role in the blockchain industry's growth. While some projects may face challenges, the underlying technology and concept of NFTs still hold tremendous potential.
In conclusion, the decline of CryptoPunks serves as a reality check for the NFT market. It highlights the importance of thorough research and careful consideration when investing in NFT projects. The blockchain industry, with its constant evolution, remains an exciting space, filled with opportunities and challenges. As with any investment, risks are involved, and investors should exercise caution while navigating the world of NFTs.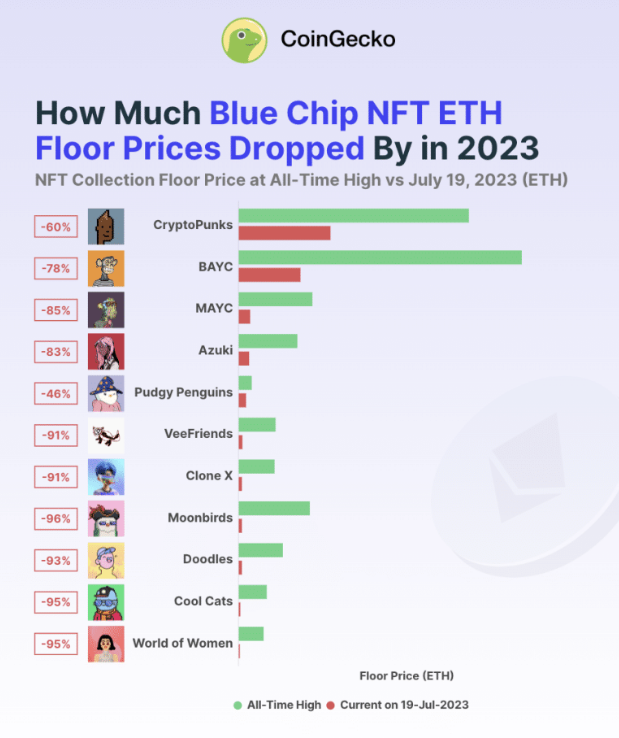 Disclaimer: This article does not constitute investment advice. Investing in NFTs carries inherent risks, and individuals should conduct their due diligence before making any financial decisions.