Crypto price predictions amidst SEC crackdown LTC, XRP, and ASI outlook.
The price of Litecoin has been weak recently due to bears' push, but it could become bullish ahead of its halving event.

Meanwhile, the price of XRP is holding above a key level as the SEC vs. Ripple case moves closer to a court decision.

Both Litecoin and XRP have seen minor inflows in investment products in the past week, which suggests that broader crypto resilience is likely to boost AltSignals (ASI).
This week, cryptocurrency news has been dominated by events related to the regulatory crackdown on crypto exchanges in the US, with the SEC suing both Binance and Coinbase. Amid this, there have been continued outflows from digital assets investment products.
Regulatory headwinds and uncertainty surrounding prevailing monetary policies remain key factors that are impacting the performance of the crypto market.
However, could the inflows into Litecoin (LTC) and XRP (XRP) investment products suggest that crypto bulls remain resilient? What does this outlook, and the SEC vs. Ripple case, signal for new cryptocurrencies like AltSignals?
What is AltSignals?
AltSignals is a company that launched in 2017 and offers trading signals for a growing community of users across cryptocurrency, forex, and stocks. The platform is looking to launch a new artificial intelligence-powered layer called ActualizeAI.
The new AI-powered solution will offer further accuracy for trading signals that users can apply in whatever market conditions.
This AI layer is set to launch later in the quarter, and its native cryptocurrency token ASI is currently in presale.
According to details on the AltSignals website, the first stage of the token sale is 91% sold out. ASI token holders will have premium access to ActualizeAI, among other benefits, including earning rewards for participating in ecosystem development, governance, and staking.
Investors can get access to these features and more at the current discount prices by participating in the presale here.
Litecoin and XRP see investment inflows
Digital assets manager CoinShares released its weekly report on cryptocurrency investment flows on Monday. It showed that outflows totaled $88 million last week, and $417 million over the past eight weeks.
However, despite Bitcoin and Ethereum seeing nearly all of the weekly outflows ($52 million and $36 million, respectively), investment products that offer exposure to top altcoins recorded some inflows.
Prevailing market conditions aside, Litecoin and XRP saw inflows of $0.7 million and $0.5 million, respectively, suggesting a bullish outlook from investors. Solana also registered $0.3 million in inflows.
XRP price prediction ahead of Hinman files release
In terms of price outlook, Bitcoin has held above $25k and is currently above $26,200, while Ethereum is looking to retest $1,800 as bulls try to stabilize following last week's sell-off. The total market cap is above $1.11 trillion, up 1.7% in the past 24 hours, indicating broader market resilience.
Looking at Litecoin price, we see it trading near $79 on Tuesday morning, up 4% in the past 24 hours. The price of XRP is above $0.53, up approximately 3%. Both coins have key events on the horizon that could have a significant impact on the direction of their respective markets.
Litecoin is moving ever closer to its halving set for this August, and the immediate short-term target is the $100 mark. A post-halving rally in a new bull market could see LTC bulls aim for all-time highs.
Meanwhile, the XRP community is upbeat ahead of a court verdict in the case between SEC and Ripple Labs. Ripple is the blockchain company that created the XRP cryptocurrency, which the SEC alleges is a security.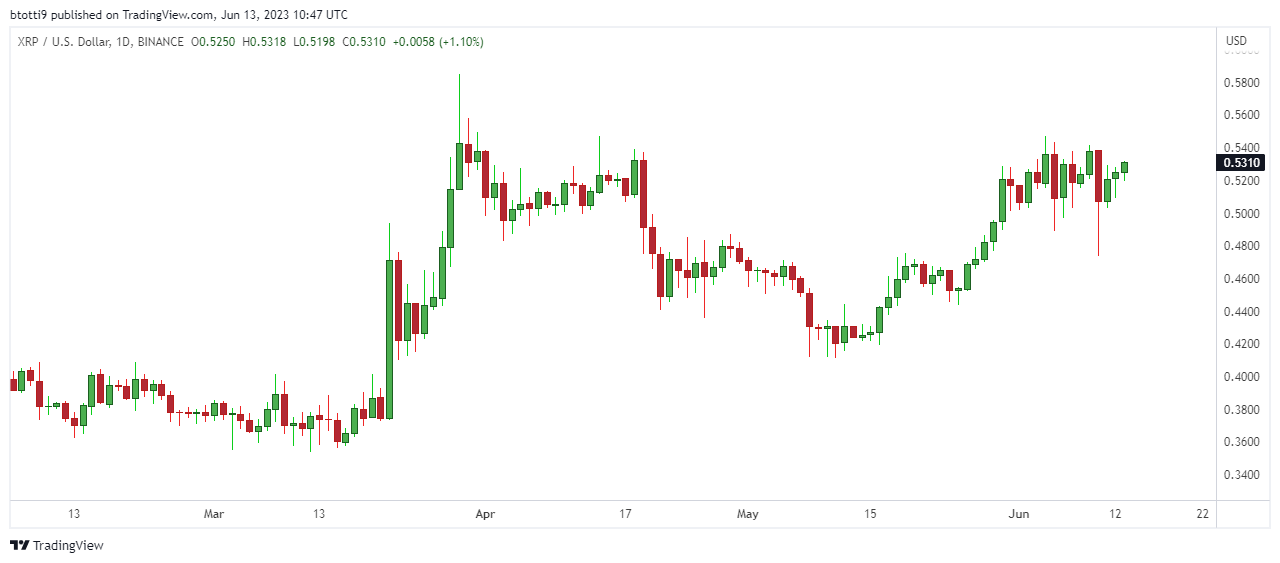 XRP price on the daily chart. Source: TradingView The "Hinman files" relate to a speech former SEC Director William Hinman gave in 2018, in which he appeared to state that Ethereum's ETH was not a security.
On Tuesday June 13, 2023, the Hinman files will be released, and Ripple CEO Brad Garlinghouse has struck an optimistic tone ahead of the ruling, saying they've waited 18+ months for this.
The documents are crucial for Ripple's defense. If Ripple wins the case, it could have a massive impact on crypto markets, regulations, and prices. If XRP reaches $1, bulls could identify resistance levels towards its all-time high of $3.40.
Why are investors interested in the ASI presale?
AltSignals is already a successful project with trading signals that currently serve more than 50,000 subscribers. This outlook suggests that the token's price could appreciate in the long term as the AI boom cascades from companies like Nvidia to crypto-related projects.
With a roadmap highlighting development milestones such as a beta launch for ActualizeAI in the coming months, it is likely that aspects such as listing ASI on key exchanges like Uniswap and top CEXs, and expansion via OTC partnerships could help ignite further demand for ASI.
If you're interested in learning more about AltSignals and the ASI token, read their whitepaper.
AltSignals price prediction
The price of ASI rose from $0.012 during the previous stage to $0.015. It will continue to rise throughout the sale to reach $0.02274, suggesting a 51% discount to the listing price. ASI could then target levels including $0.05 and $0.1 after it hits the secondary markets in 2023.
In 2024, the price of ASI could be looking at new highs around the psychological $1. However, predicting the price of ASI might not be easy given that it is still in presale. Market conditions can also invalidate forecasts, particularly if the anticipated bull market cycle doesn't happen or regulations and other factors catalyze a fresh dump that crashes crypto.