Cardano's price surpasses Dogecoin in coin rankings – Can ADA increase 10x from here?
Cardano's price surpasses Dogecoin in coin rankings - Can ADA increase 10x from here?
The Growing Potential of Cardano (ADA) in the Blockchain Industry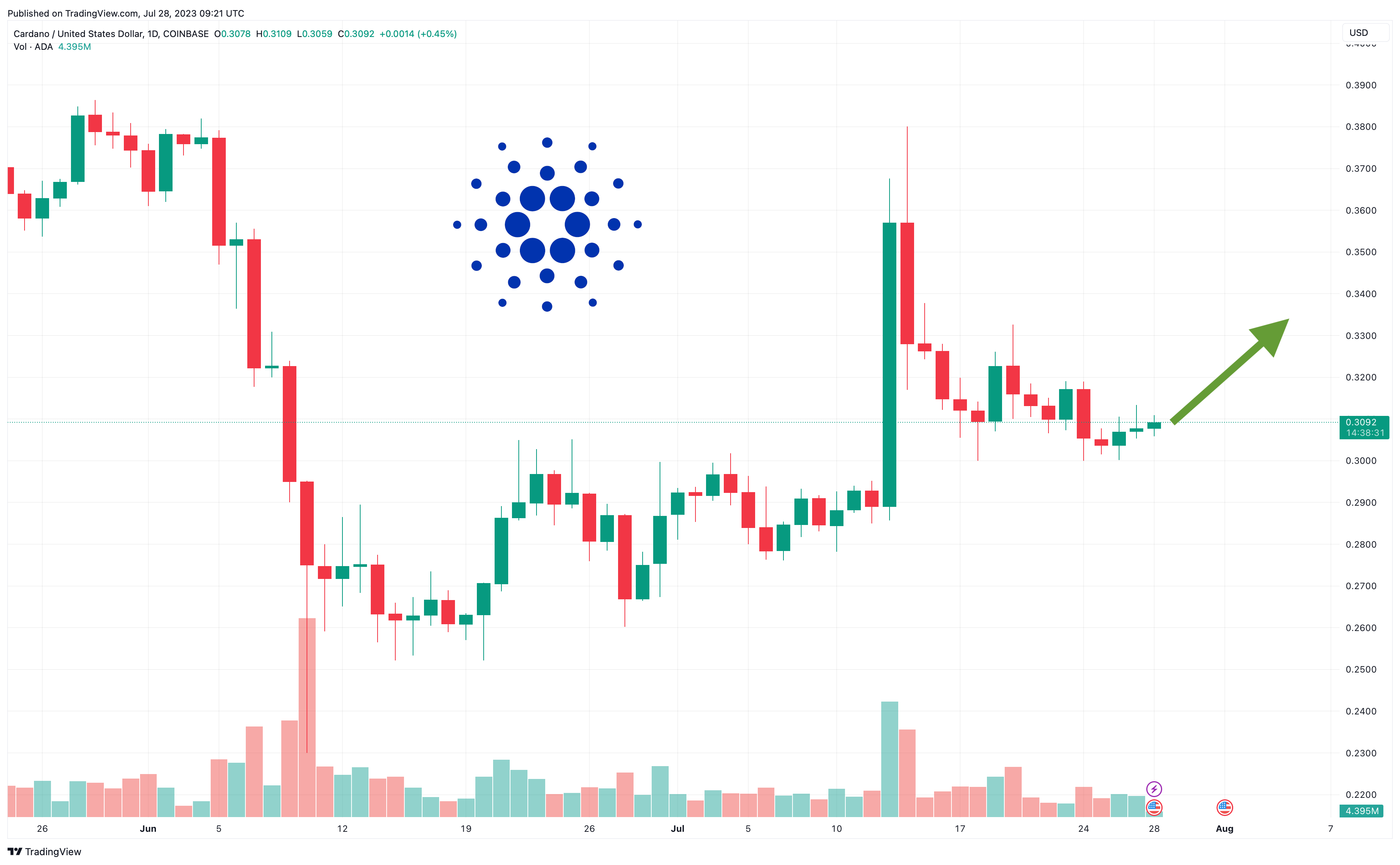 Source: TradingView
The price of Cardano (ADA) has experienced a slight dip of 0.5% in the past 24 hours, aligning with the overall instability observed in the cryptocurrency market. ADA currently stands at $0.309603. Despite this temporary setback, Cardano has shown promising growth, with gains of 12% in the last 30 days and 25% since the beginning of the year. The notable increase in market capitalization has enabled Cardano to surpass Dogecoin (DOGE) and secure its position as the eighth-largest cryptocurrency in the market, trailing behind Lido Staked Ether (STETH)1.
ADA's Potential for Future Growth
Cardano's recent chart analysis reveals that the altcoin is on the verge of another rally. Its relative strength index (RSI) has surged up from 50, indicating a potential upward trend. Additionally, the 30-day moving average has stabilized, suggesting a forthcoming rise in value2. As ADA prepares for another bounce, it may reach a level of $0.325 in the near future. While ADA's support level remains relatively weak, its overall position remains positive as it continues to gain momentum in the market by surpassing DOGE3.
Cardano's Growing Presence in the Blockchain Ecosystem
Cardano's recent achievement of surpassing DOGE is attributable to its strong development as a platform. Despite DOGE's lackluster performance in 2023, Cardano has been consistently growing, gaining recognition as one of the top layer-one networks. Notably, Cardano has outperformed other networks in terms of decentralized finance (DeFi) metrics, such as stablecoin market caps and decentralized exchange (DEX) volumes. This impressive feat highlights Cardano's potential to become a significant competitor to established blockchains4.
The Future Projection for ADA
Considering Cardano's steady growth, it is reasonable to expect sustained price growth for ADA in the upcoming months. Some analysts speculate that ADA could potentially reach $0.50 within the next few months and even soar as high as $1 by early 20245. These predictions are not unfounded, as Cardano continues to attract more projects to its network. Currently, there are over 1,200 projects building on the Cardano platform, with 135 already launched. With Cardano still far from reaching its full potential, its continued expansion and maturation will likely lead to further price appreciation for ADA6.
Exploring New Altcoins with Rally Potential
While Cardano presents a promising investment opportunity, it is essential to consider other altcoins that offer the potential for significant gains. For traders seeking short-term and above-average returns, newer altcoins may be more appealing. One such altcoin to consider is BTC20, an ERC-20 token that provides a staking-based version of Bitcoin. This innovative token allows holders to earn passive income while retaining a deflationary asset7.
BTC20 stands out due to its limited supply of 21 million coins, closely mirroring Bitcoin's supply dynamics. During its presale phase, BTC20 raised over $3.8 million in just a week, signaling strong investor interest8. The current availability of BTC20 during the presale at a price of $1 presents an opportunity for investors who missed out on Bitcoin's early stages9. BTC20's controlled supply and deflationary nature suggest the potential for long-term value appreciation.
Investors can participate in the presale by visiting the official BTC20 website and purchasing the token using USDT, ETH, or fiat currency. Although the initial presale price is set at $1, once BTC20 is listed on various trading platforms, its value is expected to increase substantially10.
Conclusion
The blockchain industry, spearheaded by Cardano's growth and the availability of new altcoins like BTC20, offers an array of investment opportunities. Cardano's consistent development and outperformance in the DeFi space indicate its potential to rival established blockchains in the near future. Analysts predict significant price growth for ADA, with projections reaching $0.50 within the next few months and even $1 by early 2024. However, for traders seeking quicker gains, newer altcoins with promising features should be carefully considered. BTC20, with its staking-based approach and controlled supply, presents an alternative investment option within the crypto market. As with all investments, it is crucial to conduct thorough research, as cryptocurrencies entail high risk11.
References