Bitstamp hints at big XRP news, but market remains uncertain
Bitstamp hints at big XRP news, but market remains uncertain
Bitstamp Teases Major Announcement, Boosting XRP Speculation
Europe's leading cryptocurrency exchange, Bitstamp, has set the XRP army speculating with its cryptic tweet teasing a significant announcement related to the token. The Luxembourg-based exchange's tweet simply read "tomorrow," accompanied by XRP-themed hashtags #XRP, #XRPL, and #XRPLedger, and a suggestive video. The animation in the video shows an XRP rocket ascending, implying that the forthcoming announcement could result in significant news for the XRP Ledger and potentially boost the price.
However, Bitstamp has not provided any explicit hints about the nature of this announcement, leaving the community buzzing with anticipation. XRP's followers have been quick to share their theories on what Bitstamp's announcement might involve. One theory suggests a full integration of the XRP Ledger (XRPL) with Bitstamp, focusing on fiat ramps for payments. Another theory speculates on an XRPL integration. Some even wonder if the announcement might have something to do with Ripple's recent minority stake acquisition in Bitstamp.
Ripple, in a bid to expand its international operations and diversify its offerings, acquired a stake in Bitstamp earlier this year. It is unclear how much Ripple paid for the acquisition or the specifics of the deal. Some XRP enthusiasts believe that Bitstamp's tease could be related to this acquisition, given Ripple's intentions to strengthen its international presence and diversify beyond payments.
Bitstamp has been a significant Ripple gateway for years, providing clients with access to RippleNet and serving as a key partner for Ripple's On-Demand Liquidity (ODL).
XRP Investors Remain Skeptical
Despite the buzz around Bitstamp's forthcoming announcement, XRP investors have not responded positively to the news. Currently, XRP's price has lost key support at $0.6760, reaching a new three-week low following a summary judgment in the US Securities and Exchange Commission (SEC) case. While the price has found temporary support at the 200 EMA (Exponential Moving Average) at $0.6543, further selling pressure could drive it towards $0.60.
However, if Bitstamp's announcement tomorrow manages to excite XRP investors, the $0.6760 level could become the first resistance. In the event of a breakout, a spike up to $0.7249 is likely.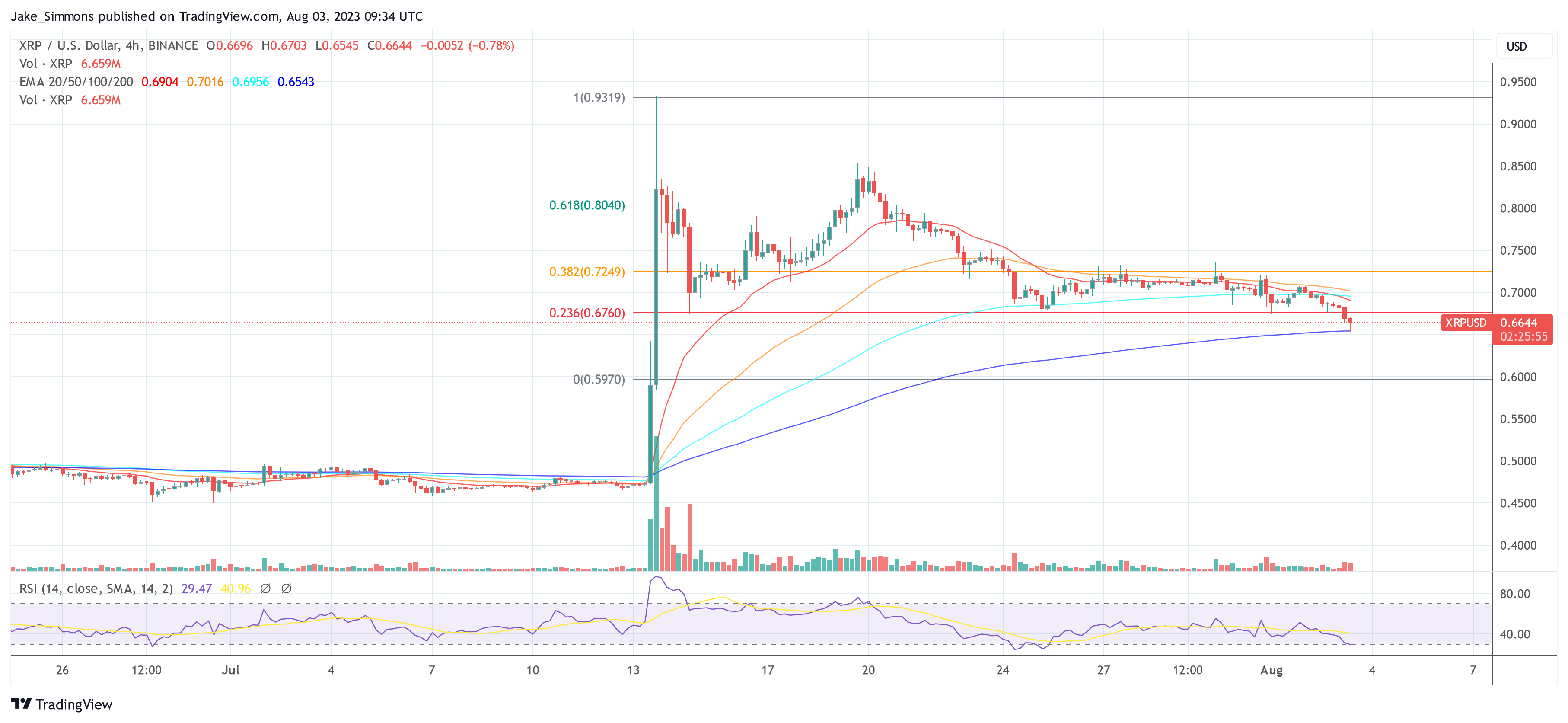 In summary, Bitstamp's teaser has sparked speculation and excitement within the XRP community. While the exact nature of the announcement remains unknown, there is widespread anticipation that it could have a significant impact on the XRP Ledger and potentially boost the token's price. Whether this announcement will bring a positive change remains to be seen, but XRP investors are eagerly waiting for Bitstamp to reveal its big news.