Bitcoin price hits bearish target, but bears remain active.
Bitcoin price hits bearish target, but bears remain active.
The Blockchain Industry: A Comprehensive Overview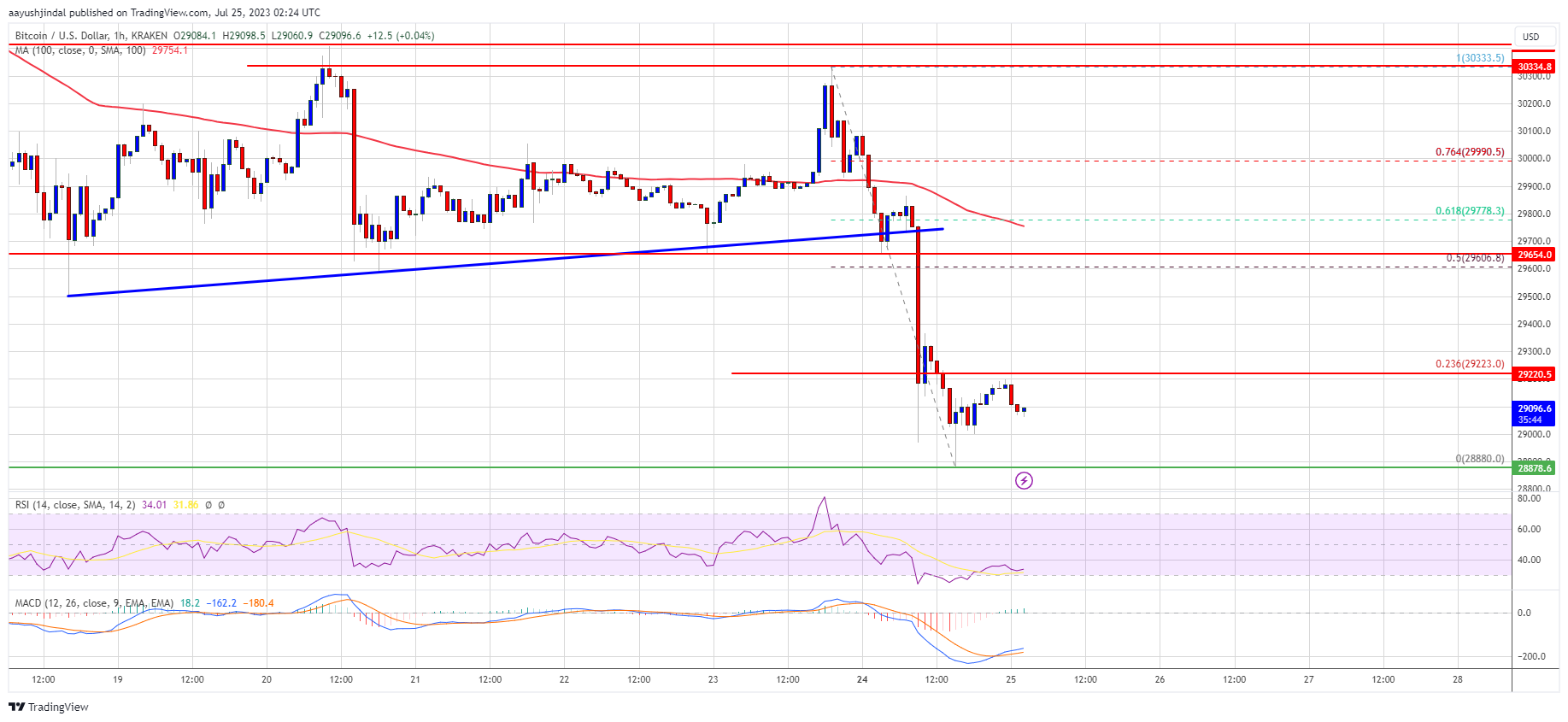 Bitcoin, the pioneer of the cryptocurrency market, has experienced a recent decline in its price, dropping below the $29,000 mark. This downward trend has put Bitcoin at the risk of facing further losses and potentially testing the support zone around $28,200 in the near term.
Bitcoin Price Turns Red
Bitcoin has entered a bearish zone after settling below the crucial $30,000 support level. The break below the key support zone of $29,650 has initiated a fresh decline. Furthermore, a significant bullish trend line with support near $29,700 on the hourly chart of the BTC/USD pair was broken. As a result, the pair tested a new weekly low around $28,880 before consolidating its losses.
In terms of technical indicators, Bitcoin is currently trading below the 100-hourly Simple Moving Average and the $29,500 price level. The immediate resistance lies near $29,250. This level corresponds to the 23.6% Fibonacci retracement level from the recent decline, ranging from the swing high of $30,333 to the low of $28,880.
Moving forward, the first major resistance is expected near $29,750, which coincides with the 100-hourly Simple Moving Average line. It is also near the 61.8% Fibonacci retracement level from the recent decline. In the event of a price surge beyond this resistance level, Bitcoin may potentially rise towards the $30,400 resistance. If the bullish momentum continues, the cryptocurrency might even surpass the $30,850 resistance zone.
More Losses in BTC?
In case Bitcoin fails to surpass the $29,250 resistance level, it could potentially face further downward pressure. The immediate support on the downside is near the $28,880 level, followed by the $28,500 level. A decline beyond the $28,500 level might result in difficulties for the price to recover. The next significant support stands near $28,200, and if the downward trend persists, Bitcoin could potentially test the $27,500 level in the near term.
Technical indicators can provide additional insights into the market condition. The hourly Moving Average Convergence Divergence (MACD) has entered the bearish zone, indicating increasing downside momentum. Additionally, the Relative Strength Index (RSI) for BTC/USD has dropped below the 50 level, signaling a bearish sentiment among traders.
To summarize, the recent decline in Bitcoin's price has shifted the market sentiment towards a bearish outlook. The cryptocurrency is currently facing resistance levels at $29,250, $29,750, and $30,000. Failure to break these resistance levels could lead to more losses, potentially testing support levels at $28,880, $28,500, and $28,200. Traders and investors should closely monitor the technical indicators and market trends to make informed decisions.
Table of Resistance and Support Levels
| Resistances | Supports |
| --- | --- |
| $29,250 | $28,880 |
| $29,750 | $28,500 |
| $30,000 | $28,200 |