AVAX price surges 5.5% on SocialFi hype and increasing on-chain activity.
AVAX price surges 5.5% on SocialFi hype and increasing on-chain activity.
The Rise of AVAX: Exploring the Excitement in the Blockchain Industry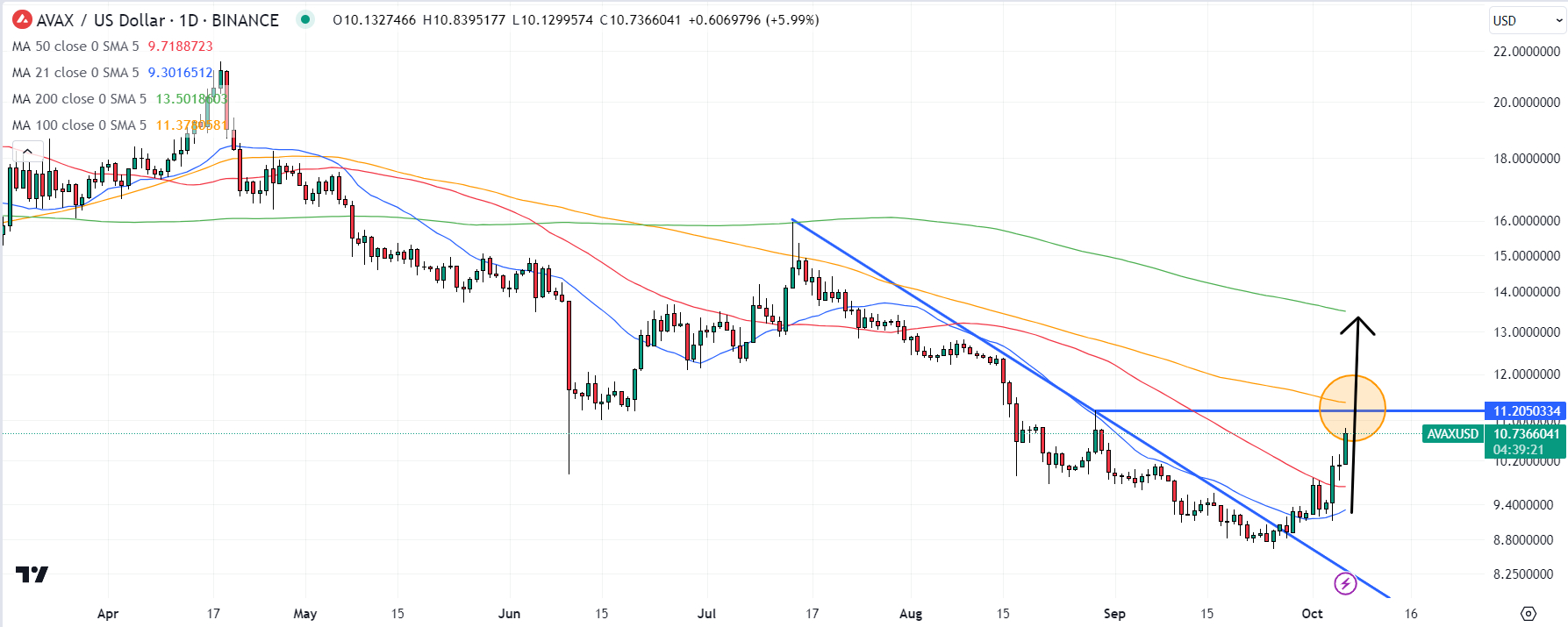 AVAX/USD Chart / Source: TradingView
In the ever-evolving world of cryptocurrencies, one token that has recently generated significant buzz is AVAX. As the native token powering the high throughput layer-1 blockchain protocol Avalanche, AVAX has experienced a remarkable 10% gain over the past week, with a 5.5% surge on Friday alone. The launch of Stars Arena, a new SocialFi platform built on the Avalanche blockchain, has contributed to this flurry of excitement.
According to CoinGecko, AVAX has surged by nearly 6% in the last 24 hours and an impressive 17% in the last seven days, making it the top-performing cryptocurrency in the top 20 by market capitalization. Its current trading price hovers close to $10.70 per token, with a notable breakout above both its 21 and 50-Day Moving Averages during this week. This bullish trend comes after AVAX broke free from a downtrend that persisted from July to late September, hinting at a potential upward trajectory.
The surge in AVAX's popularity is further evidenced by the Avalanche blockchain's daily transaction volume reaching its highest level since May. Snowtrace.io data indicates that the number of daily transactions exceeded 550,000 following the recent launch of Stars Arena.
Stars Arena: A Catalyst for Growth
Stars Arena, an Avalanche-based fork of the popular Friend.tech, has ignited interest and engagement on the Avalanche blockchain. Friend.tech, a crypto-powered social media platform, aimed to streamline monetization opportunities for social media influencers and personalities. As of October 6th, Stars Arena had a trade value locked (TVL) of $2.5 million, a significant increase from its initial TVL of approximately $30,000 at the time of its launch just a week prior. This makes Stars Arena the second-largest SocialFi platform by TVL, trailing only its predecessor Friend.tech.
Despite its early success, Stars Arena faced challenges soon after its launch as its users came under attack. Nonetheless, the platform has sustained impressive growth and is poised to continue attracting interest, ultimately driving up on-chain activity on the Avalanche blockchain.
Price Prediction – AVAX on the Rise
Given the ever-increasing interest in Stars Arena and its impact on on-chain activity, it is not surprising that price predictions for AVAX remain bullish. If AVAX manages to break past the resistance zone in the low $11s, it could pave the way for a rapid rally towards the 200DMA at $13.5. This potential breakthrough could result in an additional 25% gain from current trading levels, illustrating the excitement surrounding AVAX's future prospects.
Exploring Alternative Crypto Investment Strategies
While blue-chip cryptocurrencies like Bitcoin (BTC) and Ether (ETH) remain staples in any crypto investor's portfolio, alternative high-risk, high-reward strategies are worth considering for potential exponential gains. One such strategy involves investing in crypto presales, where investors purchase tokens from up-and-coming crypto projects to support their development.
Inevitably, these tokens are often offered at lower prices during presales, with a proven track record of delivering substantial gains to early investors. Many of these projects boast visionary teams with innovative crypto applications and platforms. Identifying such promising projects can present a favorable risk/reward opportunity for presale investments.
To assist investors in navigating this landscape, the Cryptonews team dedicates considerable time and effort to curating a list of their favorite crypto presales for 2023. It's important to note that investing in crypto remains a high-risk asset class, and while these opportunities offer potential rewards, a cautious approach should be exercised.
---
Disclaimer: Crypto is a high-risk asset class. This article is provided for informational purposes and does not constitute investment advice. You could lose all of your capital.