Avalanche's Stars Arena loses $3M in exploit, TVL drops 100%
Avalanche's Stars Arena loses $3M in exploit, TVL drops 100%
Blockchain Social Media Platform Stars Arena Suffers Security Breach, Resulting in Loss of $2.9 Million
Stars Arena, a decentralized social media platform built on the Avalanche network, has recently been hit by a major security breach, resulting in the loss of a significant amount of cryptocurrency. This incident occurred shortly after the decentralized application (dApp) reportedly fixed a loophole in its smart contract.
On Thursday, October 5, the Stars Arena team announced on X (formerly Twitter) that they had successfully averted a security exploit that could have potentially resulted in the loss of over $1 million worth of funds. However, just two days later, on Saturday, October 7, a pseudonymous X user alerted the platform to suspicious movement of Avalanche (AVAX) tokens from the Stars Arena contract. Shortly after, the Stars Arena team confirmed the occurrence of a major security breach in another post on X.
This breach has also been independently identified by PeckShield, a blockchain security firm, who disclosed that approximately $2.9 million in AVAX had been drained from the decentralized social media application. During their investigation, PeckShield discovered a reentrancy issue on the Stars Arena Shares contract. This reentrancy was exploited to manipulate the weight of the shares or tickets, allowing them to be sold at a significantly higher price, approximately 274,000 AVAX.
Stars Arena had been gaining popularity in recent days, with the rise of the decentralized social application contributing to increased activity on the Avalanche network. However, this security breach represents a significant setback for Stars Arena's growth. According to data from DeFiLlama, the total value locked in the protocol declined from $1.26 million to $0.47 million within a day, indicating a 100% decline.
Stars Arena initially went live on Avalanche C-Chain, a blockchain component specifically designed for running smart contracts on Avalanche, in late September. Although the platform experienced some traction after its launch, the recent security concerns have raised doubts about its growth and sustainability.
This latest exploit serves as a troubling reminder of the growing security concerns in the crypto space. The third quarter of 2023 witnessed a significant surge in exploits and security breaches, with losses totaling $889.26 million, surpassing the total losses incurred in the cryptocurrency industry during the first half of the year.
According to a quarterly report by Beosin, a blockchain security firm, $540.1 million of the losses were due to hacks, with decentralized finance (DeFi) accounting for 18% of this value. Of note, DeFi peer-to-peer service Mixin Network lost $200 million due to a compromise in its cloud service provider's database.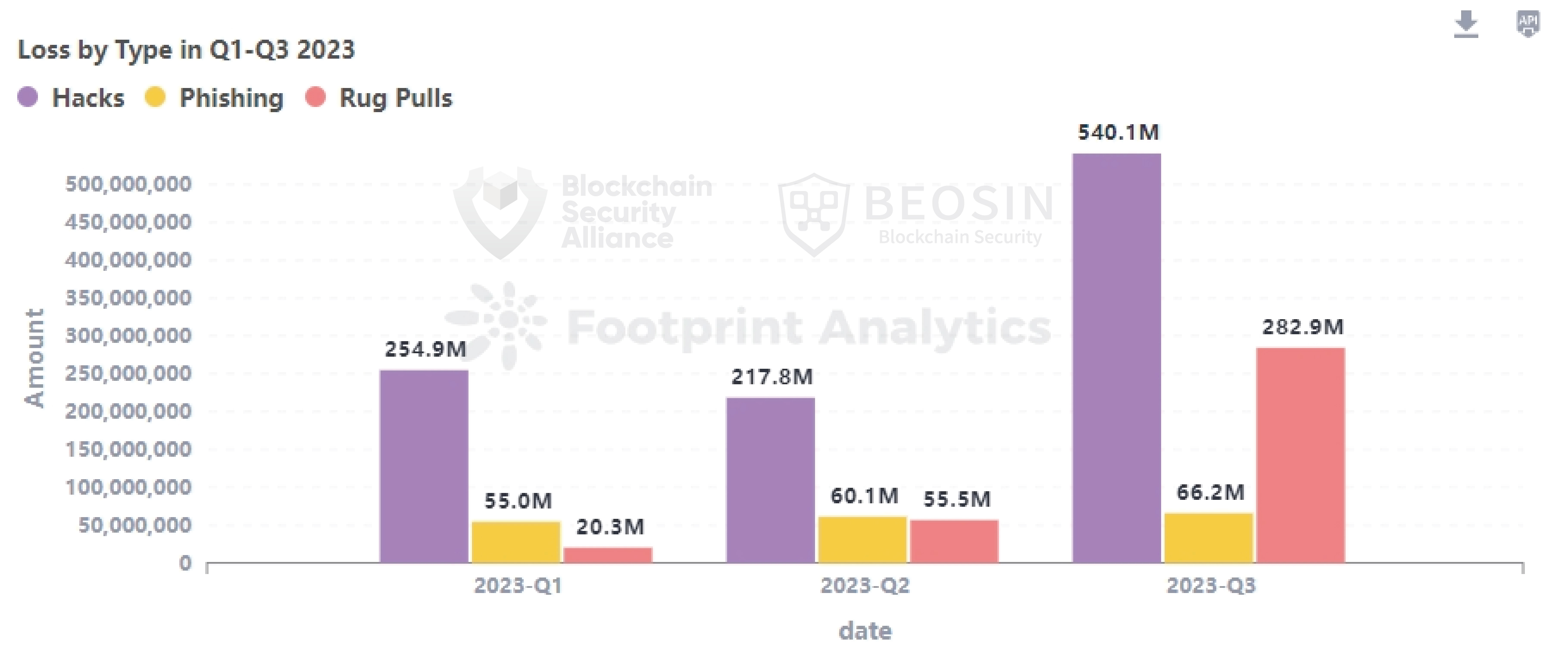 Beosin's report highlights the need for continued vigilance and enhanced security measures within the blockchain industry. As the adoption of blockchain technology and cryptocurrencies becomes increasingly widespread, bad actors are finding new ways to exploit vulnerabilities in the system.
To combat these threats, blockchain projects and platforms must prioritize the implementation of robust security measures, conduct regular audits, and involve experienced security firms to detect and address potential weaknesses. Furthermore, educating users about best security practices and promoting a culture of cyber hygiene is essential to mitigate the risks associated with security breaches.
The Stars Arena incident serves as a poignant reminder that even decentralized platforms are not immune to security breaches. However, it also underscores the resilience and adaptability of the blockchain industry, which must continually evolve to stay ahead of adversaries.
As the blockchain industry matures and gains mainstream adoption, it will undoubtedly face greater scrutiny and security challenges. Nonetheless, it is crucial to recognize that these incidents, although disheartening, provide valuable lessons that will contribute to the ongoing development and improvement of blockchain technology, ensuring a more secure and trustworthy future for the industry as a whole.
---
Disclaimer: This article is for informational purposes only and does not constitute financial, investment, or legal advice. Any action taken by the reader due to the information provided in this article is solely at their own risk.