Are altcoin whales active today, signaling potential volatility?
On-chain data shows that altcoin whales have been highly active recently, something that could lead to volatility in the prices of these assets.
Altcoin Whales Have Displayed One Of The Most Active Days Of 2023
According to data from the on-chain analytics firm Santiment, several altcoins have seen transfers worth more than $10 million in value in a single day. Generally, besides centralized platforms like exchanges, only whale investors are capable of moving such a large amount of tokens with individual transactions.
Whales are an important part of any cryptocurrency's ecosystem, as the sheer number of coins that they hold means that they can sometimes have the power to influence the market.
Related Reading: Stablecoin Cap Shows Early Sign Of Reversal, Why This Could Benefit Bitcoin
Naturally, only a couple of whales making a few sizeable, but still relatively small transfers likely won't actually produce visible fluctuations on the market, but a few massive transfers may do so.
Thus, whenever the whales are highly active (that is, a number of them are making multiple large transactions), the price of the asset that they are trading can become more likely to display volatility.
Now, here is a chart from Santiment that shows how the scale of whale activity has recently looked like for the various altcoins in the sector: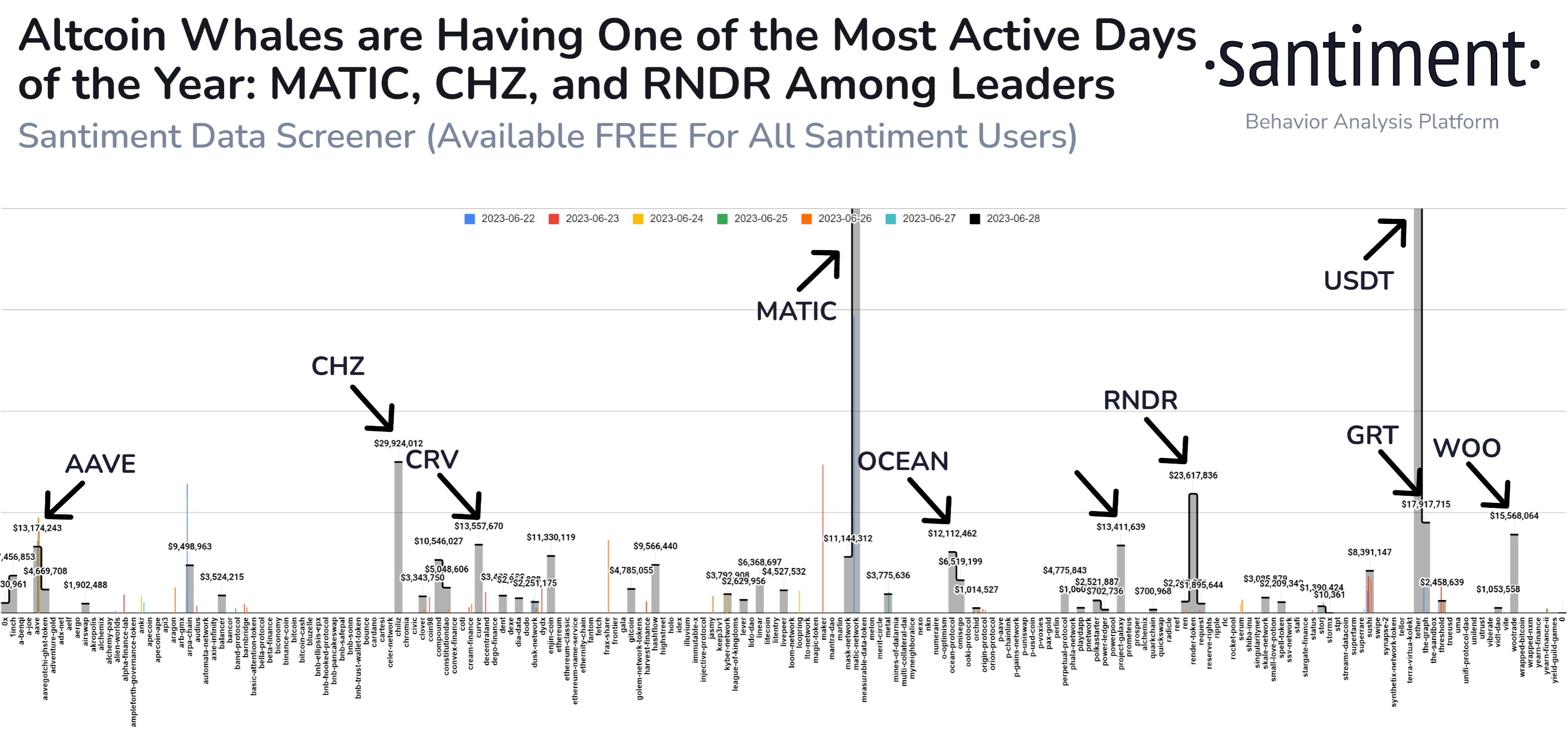 Many different assets seem to have observed high levels of whale activity recently | Source: Santiment on Twitter
As highlighted in the above graph, the whales of several altcoins moved around a large volume of tokens yesterday. Many of these alts saw major transactions crossing the $10 million mark, making the day the third most active of the year.
These large transactions have come while these alts have registered some amount of fluctuations during the past week. It would appear that this market activity has raised the interest of the whales in trading these assets.
As mentioned before, whales making such large multiple transactions can result in higher volatility for the prices of these cryptocurrencies. So far, however, since these large transfers have taken place, some of these coins have noticed some volatile price action, while the others have continued to move sideways.
From the chart, it's visible that Polygon (MATIC) in particular saw extreme amounts moved by the whales, but the asset has still only moved 1% in the past day. Nonetheless, it's possible that volatility could still be coming soon for the asset, so it may be worth keeping an eye on the cryptocurrency.
Interestingly, the Tether (USDT) whales have also been quite active recently, suggesting that some large shifts have been taking place. It's unknown whether these moves are for buying or selling, but if they are a sign of whales exchanging the stablecoin for buying into the other cryptocurrencies, then their prices may feel a bullish effect.
MATIC Price
At the time of writing, Polygon is trading around $0.63, up 6% in the last week.
Looks like MATIC has been struggling recently | Source: MATICUSD on TradingView